Housing
Cottages, guest rooms,
Motorhome area
ACCOMODATION
IN LACROIX-BARREZ
The town and the inhabitants of Lacroix-Barrez offer you a varied offer for your holidays or weekends: lodges, guest rooms, camping. You choose
Large Lodge destination Aubrac
Tel: 06 70 41 01 22
14 double beds/8 single beds/2 baby cots
Open all year
Municipality: Lacroix-Barrez
Contact : contact@legrandgite.fr
Campounac Cottage
Tel: 06 84 20 95 95
Cottage 8/10 persons (150 m2)
Swimming pool
Municipality: Lacroix-Barrez
Contact owners directly
Dilhac Cottage
Tel: 05 65 66 19 78
Cottage 2 bedrooms
Panoramic view of the valley
Municipality: Lacroix-Barrez
Contact owners directly
Cottage Le coin de l'épine
Tel: 05 65 44 60 26 / 06 41 81 05 84
Ecological cottage in Valon
2 persons
1 bathroom
Airbnb booking calendar
The Manor House
Tel: 06 60 28 95 51
Cottage 6 bedrooms / 3 bathrooms
Swimming pool
Municipality: Lacroix-Barrez
TripAdvisor
Gîte du Pompet ?
Tel: 12 34 56 78 90
Gîte & chambres d'hôtes
Vilherols
Commune: Lacroix-Barrez
Contacter directement le propriétaire
Prat Cottage
Tel: 06 50 63 48 12
Cottage 2 bedrooms / 1 bathroom
Rental April to October
Municipality: Lacroix-Barrez
Contact the owner directly
Seasonal rental Soro
Tel: 05 65 66 01 98 / 06 78 27 71 07
Rental from 2 to 4 people
From June to September
Municipality: Lacroix-Barrez
Contact the owner directly
Domaine de Vilherols
Tel: 06 07 42 30 15
Cottage & guest rooms
Vilherols
Municipality: Lacroix-Barrez
Contact the owner directly
Informations phone: 05.65.66.03.27
Courriel: mairielacroix-barrez@wanadoo.fr
or go to the "Contact" page of the site.
PRICES: 6 € / night + 0.20 € tourist tax / day / person
LACROIX-BARREZ offers plenty of activities for tourists with family or solo. Hikers will find what they are looking for on foot, by bicycle, mountain bike or quad, along marked routes punctuated with picnic areas.
The Bornottes Educational Farm, located in Fraysse, has been welcoming you since May 1, 2016:
At the farm: only by reservation for guided tours and various workshops (little farmers, treasure hunt, photo rally)
As an itinerant farm: the mini farm also travels during various events: fairs, village festivals, baptisms, weddings, birthdays….
Reception and visit for all ages: family, nursing homes, leisure centers, nurseries, schools, etc. On his Highland Cattle farm
During zootherapy sessions for people with motor, mental, hyperactive and phobic disabilities. Come and discover in a friendly setting, sheep, goats, dwarf pig, llamas and many more!
Information and reservations: Marie Delpuech 06 49 02 28 06 www.fermedesbornottes.fr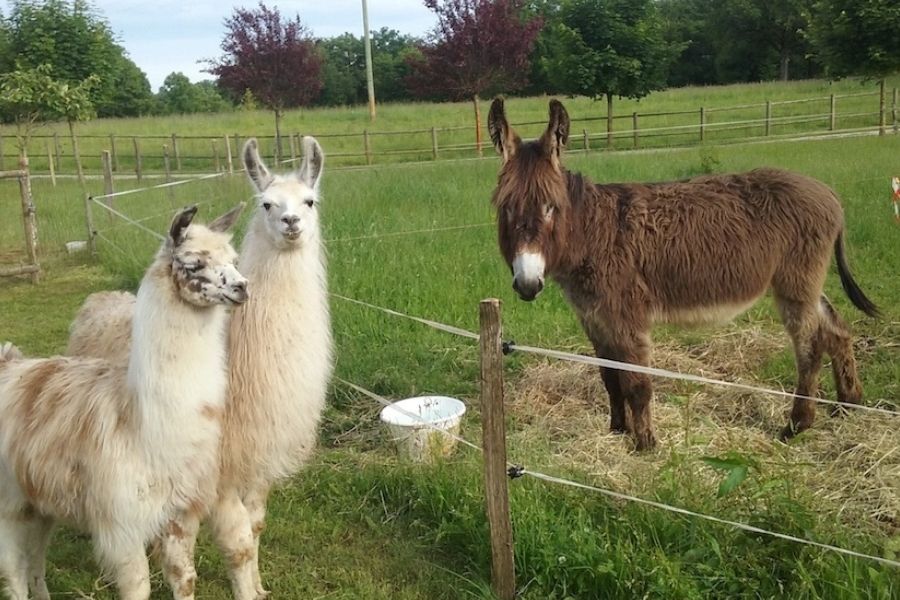 Lacroix Barrez en Carladez offers you 4 marked mountain bike trails, which will allow you to discover the hamlets of the town and the "rare" sites to visit with their breathtaking and unforgettable landscapes. Good getaways for the brave.
Download your future mountain bike ride
Multipurpose room of 1000m2 available to communities, associations and individuals by prior reservation with the town hall.
Phone: 05 65 66 03 27
Find Aveyron on your plate
For lovers of good food, the town, offers a variety of local, terroir or organic producers who will welcome you with pleasure to explain their approach.